BS/MS ACCELERATED DEGREE IN FORENSIC SCIENCE
Everything you ever wanted to know... especially how to apply!
IS THIS THE RIGHT DEGREE FOR YOU?
INFO ON APPLYING IF YOU ARE:
Find out how many credits are required for the course and what your schedule would look like in the different years.
● Already a student at John Jay
● A CUNY transfer student
● A non-CUNY transfer student
● An international student
● Not yet in college
CAN YOU APPLY (ELIGIBILITY) & HOW?
Find out your elegibility and what is required for the application to the accelerated degree
I AM A JUNIOR, CAN I APPLY?
Unfortunately, no. BUT we strongly encourage you to apply to the regular MSc as fees and some credits will be waived. Apply here.
DO I HAVE TO TAKE THE GRE?
Easy one: NO - you will automatically be accepted in the graduate school upon complete of your 62 credits BSc
IS FINANCIAL AID AVAILABLE?
Financial aid is available while you do your BSc, but as you switch to the graduate school in year 4 (Fall), it will no longer be. You can apply to loans or scholarships at CUNY
CAN I GRADUATE IN 5 YEARS, REALLY?
It all depends on your thesis research, writing and defense. All coursework will be completed by Spring of Year 5. To complete the degree, however, you must complete your thesis
Director of the Graduate Program in Forensic Science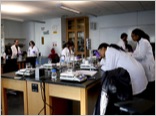 WHO:
FOS Major Freshpeople & Sophomores with a Math & Science GPA => 3.0
WHAT:
A 5 years accelerated path to a Master's Degree!
WHY:
Instant promotion to higher salary/position at entry job
HOW:
145-147 credits over 5 years